Please Note: This event has expired.
Pass Over
In the wake of the death of their grandmother, the Washington siblings find old stock in the the Levy family business, triggering the revelation of secrets, tensions, and reckonings.
The Washingtons, an African-American family, have lived next door to the Levy family in a Philadelphia neighborhood for a few generations. In the wake of the death of the Washington family matriarch, a brother and sister come together to bury their beloved grandmother. The finding of old stock, by the Washington family, in the Levy family business, triggers the revelation of secrets, tensions, and reckonings.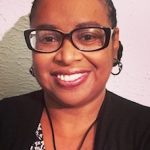 Michelle Tyrene Johnson is a public radio journalist, author, and speaker who lives
View more
ADMISSION INFO
Adults $18
Seniors (55+)/ Students/Military $16
Children (12 and under) $14
Groups (8 or more) $14 must be prepaid
If you are an OCTA season ticket holder or have a pre-sale/comp ticket, we recommend making your reservations early to ensure your seats are reserved by emailing tickets@olathetheatre.org or call 913-782-2990 with performance date and ticket type. Accessible seating and assistance are available.
Tickets may be purchased with credit card, check, or cash. Free parking is available in the OCTA lot and on the street. Concessions are available for cash or credit donation and may be taken into the theater.
Contact: 913-782-2990
Email: tickets@olathetheatre.org
INDIVIDUAL DATES & TIMES*
Additional time info:
Opening night, April 5, 2019: Guests will be treated to a post-show celebration with the cast and crew!
Saturday, April 6, 2019: Guests are invited to a post show talk back with playwright Michelle Tyrene Johnson.
*
Event durations (if noted) are approximate. Please check with the presenting organization or venue to confirm start times and duration.
PARKING INFO
Parking lot behind the building and on the street.
CONNECT WITH Olathe Civic Theatre Association